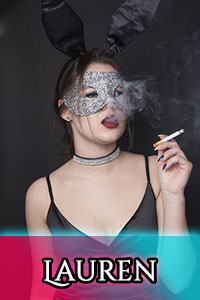 Age:

27

Measurements:

38D

Hair:

Brown

Height:

5'5″

Weight:

120

Ethnicity:

American
I Love Punishing Bad Boys
Hello, my Master. I am Mistress Lauren, and I am a submissive fetish escort who wants to make you feel superior in every way possible. I enjoy going out on the town with my dates, and I will adhere to any requests that you send my way, whether in public or not. In fact, I like to be scolded if you feel I am not meeting your criteria. The anticipation of you punishing me when we get back into private will keep me on my toes and awaiting your touch throughout the public part of our date. Please, please, please, alert me if you feel you are unhappy with anything that I say or do. Also, let me know what my punishment will be. This will excite me and make our time together even more thrilling. The anticipation of getting back into a private setting will escalate, and I may want to rush along the process just so you can delve out the spankings, put-downs, etc.
If you enjoy being in charge, both in public and private, then being with me will be one of the best decisions you have ever made. I will do my very best to make you happy with my looks, my conversation, and my actions. If at any time I do not live up to your expectations, let me know what you will have to do to me when we get back to your room or home. This will not only make you happy with your controlling but will also make me happy as I know you will be giving me due punishment in due time. I hope it can all be done without clothing on as well. That makes it so much more interestiing, don't you think?
I have a sexy body. I want to show you the whole thing. I want you to touch me and please me as well. Let's get together and find out more about each other soon. When you call or email, lay down the guidelines so I know what to expect and what to look forward to. This way I can do my best to make you happy with me from the second we meet each other. I can't wait to hear from you and make you realize just how powerful you are over me. I also have a smoking fetish.
–Lauren