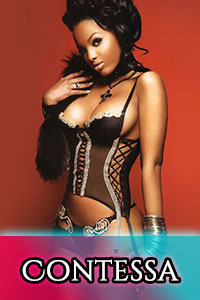 Age:

24

Measurements:

40C

Hair:

Brown

Height:

5'3″

Weight:

135 lbs

Ethnicity:

African American
Tell Me What To Do Master
Hello, my friends. My name is Mistress Contessa, and I am a submissive Las Vegas fetish escort. I enjoy spending time with my clients in spots where we cannot be seen by others. I am all for the public part of a date, don't get me wrong, but I will be thinking about how much fun we will really have when we go to your place.
I want you to see all of me: my curves, my smile, my body. I love when a man undresses me. It has to be done slowly though. This will get me into the mood for more and it helps to keep the spark alive with the whole romantic aspect associated with a date. I will ask that you help me strip. This is all part of the fun of meeting someone you want to spend private time with.
I am into body worshiping. I am sure you know what portion of the body I will have my sites upon. If you can't guess, then you will be in for a treat. I will be extremely attentive and make sure that this portion of yourself is touched, kissed, licked, and more. You'll be completely aroused when I hone in on this and this will make you want my attention to other parts of the body even more. Which I will give to you…when I feel the time is right. Do you think this is something you want to try? Read on.
If you are curious and want to go out and about with a girl who looks as stunning as I do, all you need to do is call or email to set up a date with me. I am available at all times of the day or night and will make it a priority to fit you into my schedule. We can hit the town for a while and then head back to your place for some one-on-one playtime. Are you interested in finding out more? Drop me a line, ask me some questions, or call to inquire about my services. I can't wait to meet you in person and give you the attention you deserve.