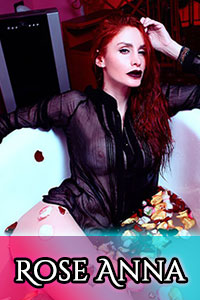 Age:

38

Measurements:

38c

Hair:

Red

Height:

5'7″

Weight:

140

Ethnicity:

American
Your Rose Flavored Dominatrix
Domination. Financial domination. Punishment. Reward. Greed. Performance. All the finer things in life. I am Mistress Rose Anna. I am a Las Vegas Dominatrix. I have whips. I have chains. I have needs. I have rules.
Finding someone with as much experience as I have, is hard in this area. I am one of the older women who dominate the dates properly. New girls on the scene do not compare. They weaken and don't follow through. If you are into dom/sub behavior to begin with, you know that you want your dom to follow through. Newcomers don't understand this. You'll just have some girl who will stop what you want the most. Fools.
I want to be touched exactly as I tell you. I also want you to do actions that may make you feel nervous about your performance. I'll tell you what you do wrong from the get-go so you have a chance to improve. If you don't listen, if you don't try your hardest, you will fail. This will lead to me leaving. I'll just pack up my things and say goodbye. I'll leave you hanging and I won't look back. If you really try, and you really want to make me happy, I'll stay…until I notice you aren't giving it your all.
The bottom line is, you want to be satisfied. For you to be satisfied, I need to be satisfied first. This requires you to work. If you don't work, we both lose. If you do work, we both win. That's it in a nutshell.
If I am your first encounter, it will be a learning experience for you. Tell me you are new. This will make me a bit more apt to stay just a wee bit longer if you are sucking with the listening. Those who aren't serious, will not get the prize. Those who are will be rewarded more than they expect.