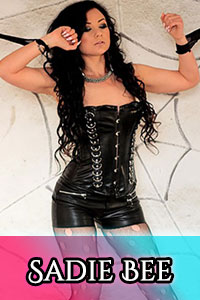 Age:

24

Measurements:

36C

Hair:

Jet-Black

Height:

5'1″

Weight:

123 lbs

Ethnicity:

Spanish/English
Dark Fantasies Come True
I'm dark, mysterious, and so fun to be around. I am Mistress Sadie Bee, and unlike the "country bumpkin" sound of this name, I am very opposite that type of person. I love anything gothic, such as skulls, spiderwebs, ripped stockings, the color black. I enjoy wearing leather or black lace. You will never see me in something pastel-colored or floral-printed. Ever.
Like my dark obsessions, I like staying inside during the day and basically only frequent the public at night. I sleep much of the day, so a nighttime date is best for me. I know some of the best bars and fetish clubs in the area. Some of them you may have never heard of before, as I tend to go to off-the-beaten-path types of places. There's less chance of running into someone you don't want to talk to. I do want to talk to you and only you during our date.
While going out is fun, staying in is better. Let's snuggle up and watch a horror flick or action movie to set the tone. When you have some adrenaline pumping for our choice, then we can get down to business and enjoy some alone time. I know you are going to want to peel every bit of my clothing right off of this drop-dead gorgeous body. I work hard at looking this way and want to share it with you. To make things interesting, I'd love it if you would tie me up beforehand. I have my own restraints and I'll show you how to use them and make sure that I am unable to get out of them easily.
The anticipation of you stripping me while I can't do anything about it, that is so exhilarating and freeing to me. It will make me want you to hurry up and get to touching me, but maybe you will want to refrain and tease me instead. There isn't anything I would be able to about it. Maybe you are into body worshiping…again, nothing I could do. You are the one in charge. You call the shots. You get what YOU want.
Call now to make a date with me. Whether we go out or stay in…you'll have a time you'll want to rehash over and over and over long after our session comes to an end.